>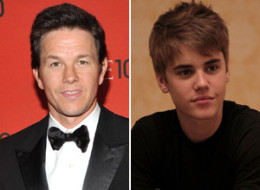 Mark Wahlberg has a serious case of Bieber Fever.
The Oscar-nominee, who most recently produced and starred in "The Fighter," told New York Magazine that he's in the process of putting together a movie with teen pop sensation Justin Bieber.
"We're putting it together. Yeah, we're doing it at Paramount," Wahlberg said. "We pitched them the idea, and we talked to him about doing it and he loved the idea. Been sending me video — he sent me a video of himself and yeah, I think he's really talented."
While he didn't confirm that he would star -- Wahlberg has produced a number of projects without a starring role -- he did say that neither he or Bieber would sing. Injecting himself in there seems to hint that he'll co-star in what he describes as a story about "a reluctant mentor in an inner-city environment."